Join us for a captivating Petrykivka Art Class with Kateryna Kryvolap! Immerse yourself in the enchanting world of Ukrainian art while enjoying a glass of wine at our workshop. This special event welcomes a small group, allowing you to learn the intricate techniques of floral Petrykivka painting.
A few facts about Petrykivka decorative art:
✔️ Since 2013, it has been included in the Representative List of the Intangible Cultural Heritage of Humanity by UNESCO.
✔️ Only in this art form will you use unique handmade brushes made from cat fur.
During this 2.5 hour session, you'll discover and nurture your hidden talent as a decorative artist. We guarantee that you'll be amazed at the beautiful creations you'll bring to life! To enhance your artistic journey, we'll provide delightful snacks and wine for you to enjoy.
The first group will take place from 11 am to 1:30 pm and the second one will be from 4 pm to 6:30 pm.
Feel free to invite your friends or family to join you in this extraordinary art class led by renowned Canadian Ukrainian artist, Kateryna Kryvolap. By the end of the 2.5-hour session, you'll proudly take home your very own exquisite Ukrainian painting on canvas, a true masterpiece.
Please note that spots are limited, so secure yours now by purchasing tickets.
We look forward to welcoming you to our Petrykivka Art Brunch and embarking on a creative adventure together!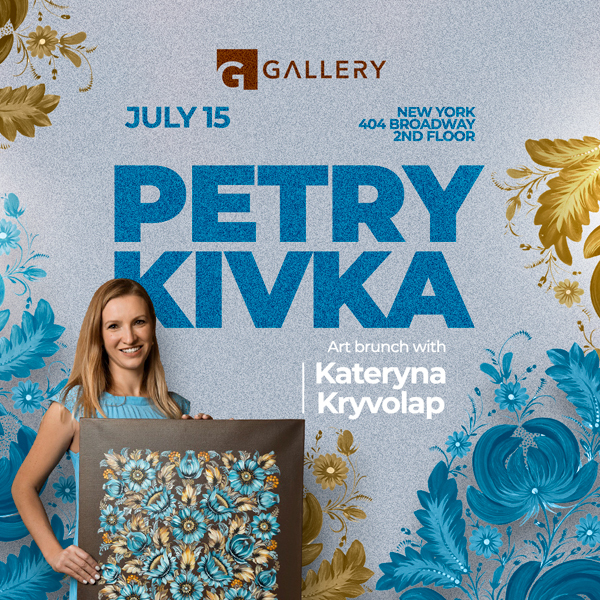 Event Policy: All tickets are final sale and cannot be exchanged or refunded. In the case of an event cancellation without a rescheduled date, a full refund will be automatically issued to each patron on the credit card used to purchase. By purchasing a ticket to this event, you agree to this purchase policy.