Painting the Future and G-Gallery are coming together to showcase artwork of displaced Ukrainian children and Ukrainian artists from March 18 - 24 to help more displaced Ukrainian children and to raise further awareness of the humanitarian crisis happening right now in Ukraine on a large scale.

Each day of the art exhibition we will have special Ukrainian-themed events at 7:30 ET that are open to the public.
The events unfolding in Ukraine is something that all cultures throughout time have grappled with and strived for, even in suppress societies – the struggle for freedom and the strength of democracy – and makes humans interconnected across space and time. While living in Ukraine, I sadly learned from countless Ukrainians that the Ukrainian population has been fighting for their freedom since their inception. As democratic societies, we can support the Ukrainian people in their struggle for peace and freedom by giving a voice to the Ukrainian people and supplementing efforts for peace and freedom in Ukraine.
18 march 7:00-7:30 (VIP early access) 7:30 - 11:00 PM Geneal admission
performance/live music/speakers/introduction/history
catering, open bar and live streaming, promoting online donating platform
19 march - 23 march for public visit we keep doors open from 7:30-11pm these days. No catering and alcohol beverages.
24 march closing ceremony - 7:30 - 11:00 PM (performance/live music/speakers/)
catering, open bar and live streaming
Selling: 25$ regular admission
100$ VIP
Tickets will be issued as a weekly pass during working hours these days (mentioned above).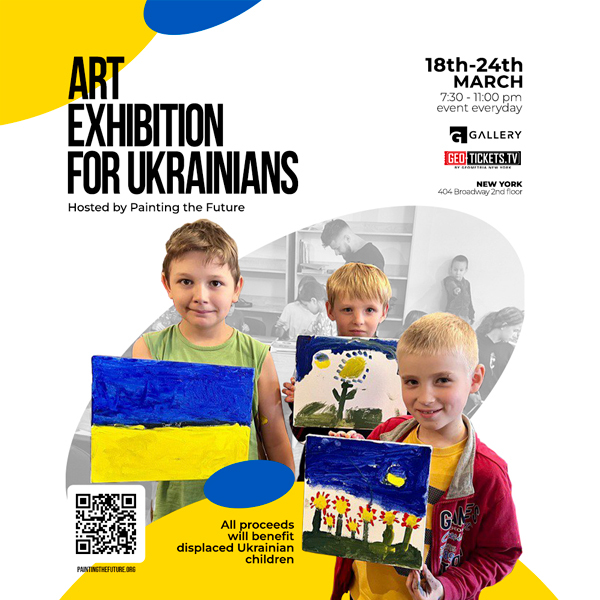 Event Policy: All tickets are final sale and cannot be exchanged or refunded. In the case of an event cancellation without a rescheduled date, a full refund will be automatically issued to each patron on the credit card used to purchase. By purchasing a ticket to this event, you agree to this purchase policy.