Дорогі друзі, збираємо на BUGGY CAR для Проти Повітряної Оборони 24 бригади ім Короля Данила, ми запрошуємо вас на незабутню благодійну вечерю української музики. Оксана Білозір, Народна артистка України, Олег Шак, Заслужений артист України, DJ Vito Lee, які виступлять на сцені 9 жовтня у Pulse Restaurant + Lounge в Авентурі, початок о 7:00 вечора. Готуйтеся до незабутніх емоцій, позитивного настрою та найкращих хітів. А ще вас чекає показ мод від дизайнера Reny M World. Поспішайте, місця обмежені! Давайте наближати перемогу разом, СЛАВА УКРАЇНІ!
Адреса: 3585 NE 207th St C-1, Aventura, FL 33180
Для попереднього замовлення їжі, будь ласка, телефонуйте за номером (305) 974-5650. Їжа та напої не включені в вартість квитків, але доступні для придбання за вашим бажанням.
Інформація про концерт: 702-582-3304
До зустрічі!
___________________________
Dear friends, we are fundraising for a BUGGY CAR for the Anti-Air Defense of the 24th King Daniel Brigade. We invite you to an unforgettable charity evening of Ukrainian music. Oksana Bilozir, People's Artist of Ukraine, Oleg Shak, Merited Artist of Ukraine, DJ Vito Lee will be performing on stage on October 9th at Pulse Restaurant + Lounge in Aventura, starting at 7:00 PM. Get ready for unforgettable emotions, a positive mood, and the best hits. You'll also enjoy a fashion show by designer Reny M World. Seats are limited, so hurry! Let's move closer to victory together, SLAVA UKRAINE!
Address: 3585 NE 207th St C-1, Aventura, FL 33180
For pre-ordering food, please call (305) 974-5650. Food and drinks are not included in the ticket price but are available for purchase at your convenience.
Concert information: 702-582-3304
See you there!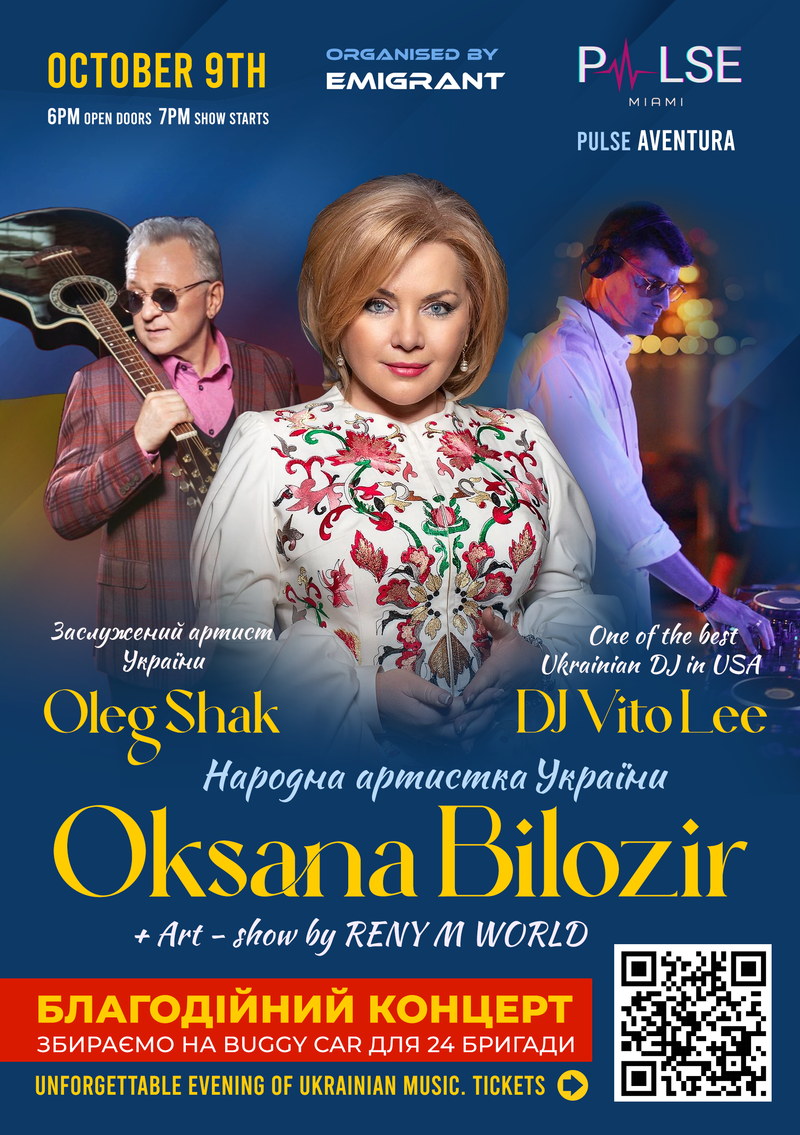 Event Policy: All tickets are final sale and cannot be exchanged or refunded. In the case of an event cancellation without a rescheduled date, a full refund will be automatically issued to each patron on the credit card used to purchase. By purchasing a ticket to this event, you agree to this purchase policy.