UKRAINIAN BUSINESS FORUM in LOS ANGELES
UBF has united Ukrainian entrepreneurs from the Logistics and Transportation sector from all across the United States and Canada thrice already in 2023, New York, Miami and Chicago! Our members had unique opportunities to identify and connect with new business partners, exchange information as well as establish new business partnerships.
We are very excited to meet back for MORE in Los Angeles!
_____________________________________
LOGISTICS & TRANSPORTATION FORUM
Navigating through a crisis.
January 20 (2PM - 8PM)
506 South Grand Avenue, Los Angeles, CA, 90071
The hall where the Oscars were held.
_____________________________________
Host
OLENA KRAVETS (Ukrainian actress and TV-representer)
Speakers:
KELLY ANDERSON (President of Kelly Anderson Group, U.S. Coast Guard Veteran)
MATT LEE (Vice President of Sales Ramsey Media Works)
ANDRIY FEDORIV (International marketer, investor, founder of Fedoriv agency, United24, Nova Poshta case study)
NERMIN BEDAK (President & Chief Risk Officer of 711 Risk Management)
NIKOLA PARLIC (Strategic Partnerships Manager at Maybach International Group)
TIMUR MIRZAEV (Founder of Truckstaff Solutions LLC)
TANYA POPOVYCH (President of Vista Trans)
DMITRIY CHEBANENKO (CEO and Founder of Auto Transport Chicago & ATC Trailers Inc.)
DENYS PANIV (Co-Owner, CEO of Alvil Trucking Inc.)
CJ KARMAN (CEO, Founder of EZLOGZ Inc.)
ALEX POPOVYCH (CEO, Founder of VISTA Transholding Inc.)
VASYL KUSHNIR (CEO of Start CDL Inc.)
_____________________________________
Who We Are: A network of Ukrainian entrepreneurs who are dedicated to expanding the network of meaningful connections by providing a forum for ideas, research and solutions as well as innovations to business all across the globe.
Our Mission: The main objective of UBF is to provide a platform for uniting Ukrainian entrepreneurs, by providing opportunities from various industrial sectors, logistics, finance technology, IT knowledge and other information to commercialize business ideas, enhance capacity, capabilities and scale of the members of the Ukrainian Business Forum.
Join for the topic of Logistics & Transportation business in the United States that includes an exciting line-up of speakers with fresh perspectives on various topics from the Logistics and Transportation Sector, networking and partnership opportunities + fun activities in sunny Los Angeles!
SPONSORS:
_____________________________________
Cell: (305) 340-7124
email: ubf@ukrainian.us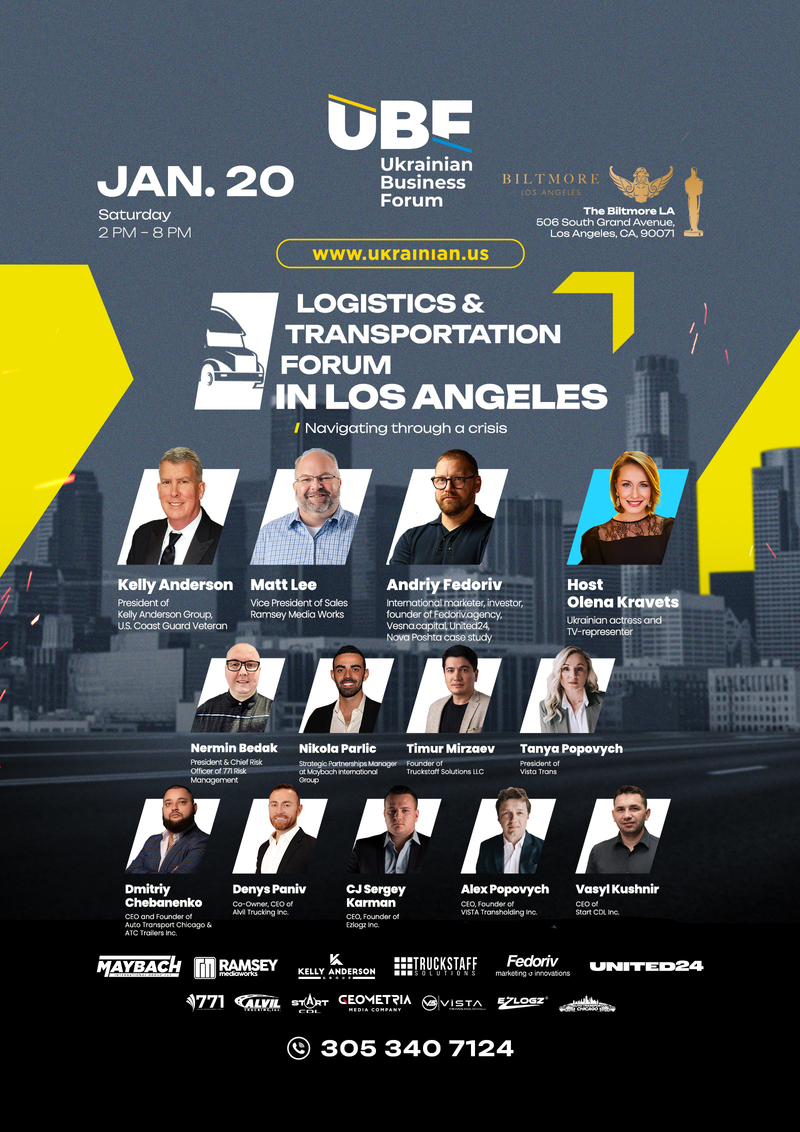 Event Policy: All tickets are final sale and cannot be exchanged or refunded. In the case of an event cancellation without a rescheduled date, a full refund will be automatically issued to each patron on the credit card used to purchase. By purchasing a ticket to this event, you agree to this purchase policy.