UKRAINIAN CULTURAL EVENT
Неймовірні УКРАЇНСЬКІ ВЕЧОРНИЦІ чекають на вас 30го квітня. Українські виконавці, перформанси, діджей, український шоу рум, традиційні смаколики, напої, виставки, аукціони та багато іншого. Мерщій плануй українську неділю:
СПЕЦІАЛЬНІ ЗІРКОВІ ГОСТІ 👇🤩
SHANIS - офіційний голос DISNEY мультфильму «FROZEN»
VIKTORIYA VENNIKOVA - заслужена артистка України
Valerie Marko - джаз виконавиця , учасниця багатьох джазових фестивалів та премій.
Arka - український Шоу-рум традиційних вбрань, вишиванок, прикрас та багато іншого.
The House of Silk & Straw - український бренд сумок ручної роботи.
Auraukraine - український шоу рум. Благодійний фонд.
DJ Disstyle - з самого Львова привіз українські сети.
VCaters - пригощатиме та дивуватиме кожного гостя найкращими смаколиками. Топ кейтеринг Нью Йорку.
БІЛЬШЕ ІНФОРМАЦІЇ ТА КВИТКИ - geotickets.tv
G-Gallery 404 Broadway 2 FL Manhattan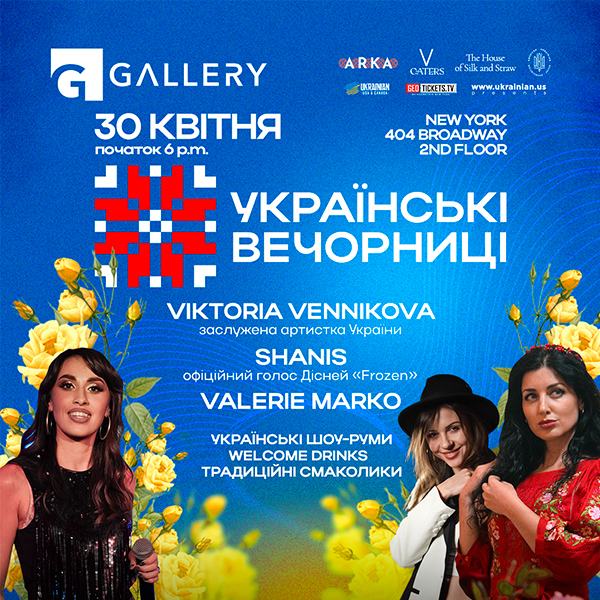 Event Policy: All tickets are final sale and cannot be exchanged or refunded. In the case of an event cancellation without a rescheduled date, a full refund will be automatically issued to each patron on the credit card used to purchase. By purchasing a ticket to this event, you agree to this purchase policy.