Ми раді запросити Вас на унікальний захід Ukrainian All Stars Boat In Manhattan.
Цього вечора ви поринете в атмосферу української культури та мистецтва, а також насолодитеся музикою зірок. Ви зможете покататися на кораблі навколо Манхеттена, насолоджуючись чудовими краєвидами.
Наша команда докладе всіх зусиль, щоб створити незабутню атмосферу та принести радість та задоволення кожному гостю заходу Ukrainian All Stars Boat. Ми впевнені, що це буде одна з найяскравіших подій року, яка залишить незабутні враження та спогади на все життя.
Не пропустіть можливість побувати на цьому унікальному заході та отримати море позитивних емоцій! Чекаємо на вас на борту!
600 українців.
Sat, July 1, 2023 7:00 PM
Circle-Line Sightseeing, Pier 83 Manhattan NY (12th ave and W 42 str.)
Наші зірки-cпіваки:
PROBASS ∆ HARDI - спеціальні гості
Грають:
UKRAINIAN DANCE SHOW
Info – 347 242 4838
Sponsors:
Geometria Advertising, Ukrainian USA & Canada, Ukrainian New York
Doors 7 PM. Boat sails at 8 PM. 21+ w/ID.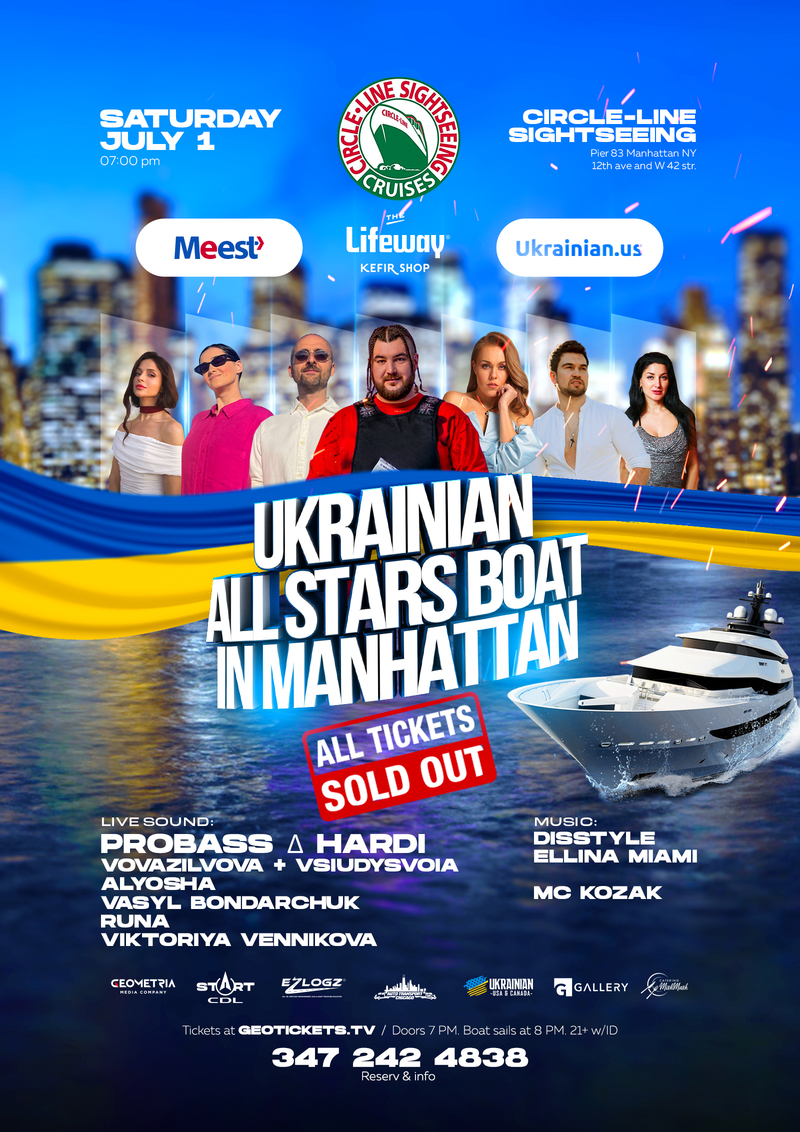 Event Policy: All tickets are final sale and cannot be exchanged or refunded. In the case of an event cancellation without a rescheduled date, a full refund will be automatically issued to each patron on the credit card used to purchase. By purchasing a ticket to this event, you agree to this purchase policy.